WELCOME to the European NWRM platform
The EU Directorate General Environment promotes the use of nature-based green infrastructure solutions (official website) and this is progressively included in a range of policies of which for water. A range of activities and related relevant information portals are also available on climate change (Climate Adapt), on biodiversity (BISE), on forest (FISE).
As detailed on DG Environment official webpage, "Natural Water Retention Measures (NWRM) support Green Infrastructure by contributing to integrated goals dealing with nature and biodiversity conservation and restoration, landscaping, etc."
The current platform gathers information on NWRM at EU level. NWRM are green infrastructures applied to the water sector, which permit to achieve and maintain healthy water ecosystems, and offer multiple benefits.
From this page you can find out more about NWRM definition, browse NWRM related concepts, look for individual NWRMs or select them by benefits, access the practical guide that will help you find your way to implement NWRM, or directly access the different products: synthesis documents, catalogue of measures, catalogue of case studies. For easy navigation, please consult the user's guide. If ,you would like to have an overview on what this website could bring you, you can Access all main documents and datasets
You can also join us on LinkedIn and access the NWRM community of practice gathered on our discussion forum, and you can submit a case study...
NEW: Access new French case studies
New French case studies from agriculture, forestry and urban sector      
Photo gallery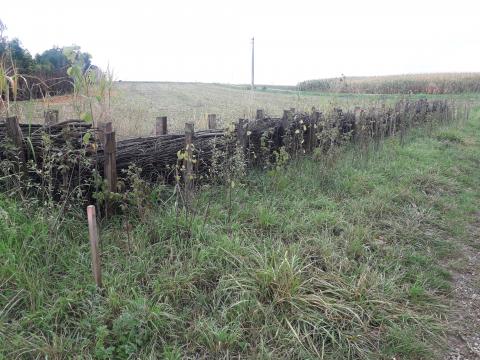 Summary
The Bas Rhin department is sensitive to muddy water flows occuring during Spring and early summer storms, which impact farmers and villages located downstream of agricultural plots. In order to reduce this risk, the Agriculture Chamber and the local authorities are working together to develop ways of combating these phenomena, which are harmful to downstream areas. Within this partnership framework, a diagnosis of the erosion and mudslides risks is carried out by the Alsace Agriculture Chamber at the commune level, and gives rise to proposals for concerted crop rotation (preventive measures) and soft hydraulic developments (curative measures). On the basis of these recommendations, the installation of hedges, weirs and grass strips is carried out by different project leaders depending on the territory (municipalities or intercommunal). Concerted crop rotation is coordinated by the Agriculture Chamber, and also allows for the gradual transition of some crops to no-till techniques, while the communities manage the implementation of soft hydraulic works.
Photo gallery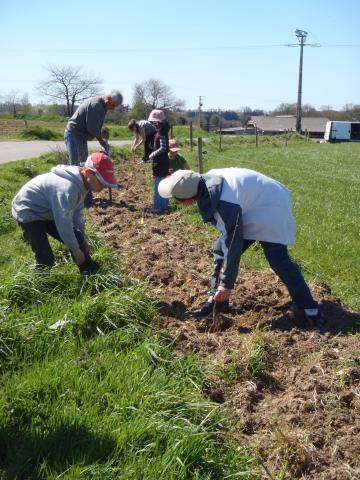 Summary
The Léguer River catchment is one of the most hedged areas in Brittany. However, this territory has suffered a decline in its hedgerow mesh as a result of agricultural mechanization and land consolidation operations. Faced with the degradation of the Leguer's water quality observed in the 1990s, elected officials in the Leguer's watershed became aware of the need to preserve the hedgerow to stop this degradation, and to consider its restoration to improve water quality. Since 1999, the Leguer's watershed committee undertook awareness-raising of the watershed population, before experimenting with the restoration of hedges and embankments in several pilot basins. This work was then extended to the entire watershed, leading to the restoration of 300 kilometers of hedges and embankments. This action is still ongoing today, and aims in particular to ensure the sustainability of existing linear thanks to urban planning tools and the promotion of hedged farmland.
DEFINITION
Natural Water Retention Measures are multi-functional measures that aim to protect water resources and address water-related challenges by restoring or maintaining ecosystems as well as natural features and characteristics of water bodies using natural means and processes. […]
Source: "EU policy document on Natural Water Retention Measures", WG PoM, 2014)
Case studies
Measures have been implemented in the field.
To see examples of implementation see the catalogue of case studies or click directly on the map below.
DECISION SUPPORT FOR NWRM IMPLEMENTATION
Information on benefits, costs, effectiveness, financing etc. included in the three following categories: