WELCOME to the European NWRM platform
The EU Directorate General Environment promotes the use of nature-based green infrastructure solutions (official website) and this is progressively included in a range of policies of which for water. A range of activities and related relevant information portals are also available on climate change (Climate Adapt), on biodiversity (BISE), on forest (FISE).
As detailed on DG Environment official webpage, "Natural Water Retention Measures (NWRM) support Green Infrastructure by contributing to integrated goals dealing with nature and biodiversity conservation and restoration, landscaping, etc."
The current platform gathers information on NWRM at EU level. NWRM are green infrastructures applied to the water sector, which permit to achieve and maintain healthy water ecosystems, and offer multiple benefits.
From this page you can find out more about NWRM definition, browse NWRM related concepts, look for individual NWRMs or select them by benefits, access the practical guide that will help you find your way to implement NWRM, or directly access the different products: synthesis documents, catalogue of measures, catalogue of case studies. For easy navigation, please consult the user's guide. If ,you would like to have an overview on what this website could bring you, you can Access all main documents and datasets
You can also join us on LinkedIn and access the NWRM community of practice gathered on our discussion forum, and you can submit a case study...
NEW: Access new French case studies
Source type
Project Report
Year
Consulted 13/11/2019
Photo gallery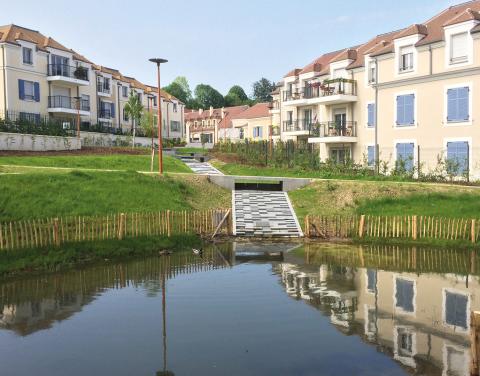 Summary
The city of Fourqueux (4000 inhabitants) has redesigned its urban space to build social housing. A plot of land has been set up at the heart of this area to collect and manage rainwater from the requalified area. Called water garden, the park collects water from 1.7 hectares of permeable and impervious area to allow it to infiltrate through a succession of temporary basins and a permanent one. It thus avoids the direct discharge of this rainwater into the separative network connected to the Seine. The water garden also acts as a natural space in the heart of a residential area, and allows the history of the municipality to be highlighted through cultural activities and the permanent display of old agricultural machinery.
DEFINITION
Natural Water Retention Measures are multi-functional measures that aim to protect water resources and address water-related challenges by restoring or maintaining ecosystems as well as natural features and characteristics of water bodies using natural means and processes. […]
Source: "EU policy document on Natural Water Retention Measures", WG PoM, 2014)
Case studies
Measures have been implemented in the field.
To see examples of implementation see the catalogue of case studies or click directly on the map below.
DECISION SUPPORT FOR NWRM IMPLEMENTATION
Information on benefits, costs, effectiveness, financing etc. included in the three following categories: